The Backspace Anderson Lane
I've been trying to branch out from my go-to's and explore new restaurants. So, last week we visited The Backspace Anderson Lane, the sister restaurant to The Backspace, Austin's first Neapolitan pizzeria. These restaurants are under the umbrella of Parkside Projects, which is comprised of several local restaurants and venues in Austin.
The Backspace Anderson Lane serves Neapolitan pizza (of course), antipasti, pasta, paninis, and many other Italian dishes. Read below to see what we tried, including pictures to lure you in.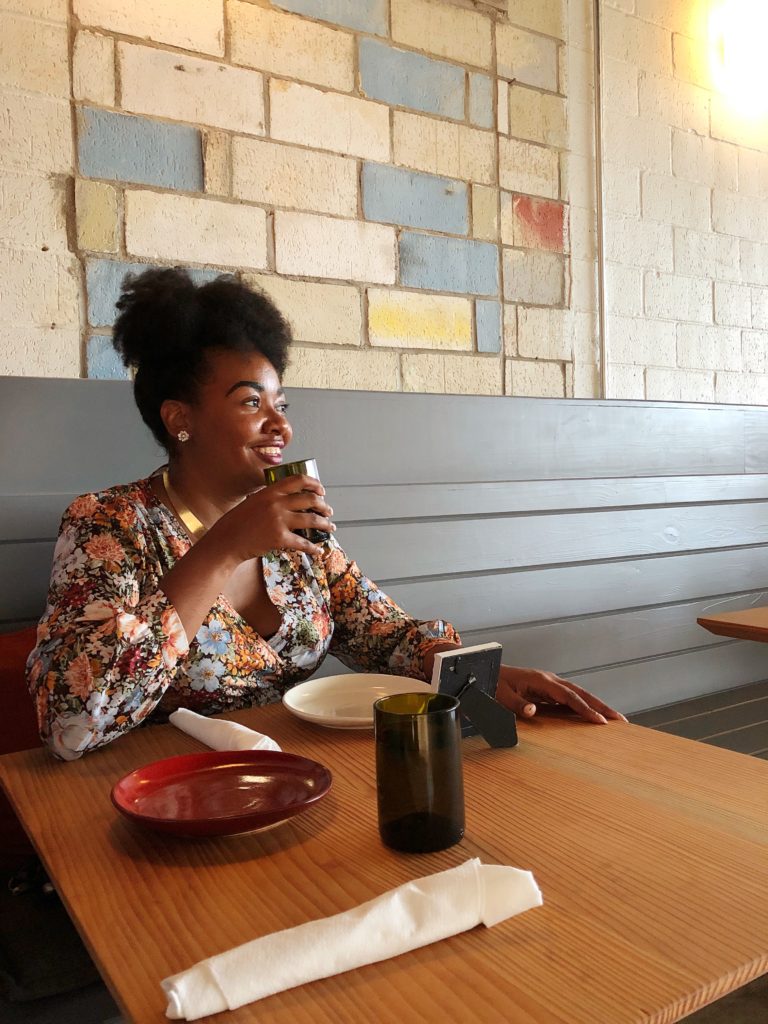 First Impressions
When arriving at the restaurant, you enter it from the back side of the building. Get it, the backspace? There's a nice small outdoor sitting area near the door and cool painted signage on the wall with neon lights of a pizza being flipped (top picture).
Upon entering, you're welcomed by the hostess, who is kind enough to give your husband a disposable mask because he forgot his at home. To the right, there's a private dining area with banquet style tables. Straight ahead is the bar, kitchen, brick oven, and a shelf featuring the many Italian wines served there. Then, to your left is the seating, which is a mixture of booths and tables.
There's a very nice ambiance inside, which is definitely matched by the food offerings. This isn't your everyday pizzeria after all. I mean, you don't have to be dressed up as much as I was, but I feel it calls for at least a polo shirt or blouse, depending on your preference.
Though there's a bar, the restaurant is still family friendly. Case in point, there was a young lady celebrating her 13th birthday with her family and friends while we were there.
I love that the pizzas are made out front where you can see the artistry in action. Also, pretty funny to me, my favorite aspect was the water glasses made from old wine bottles. Enough of the visuals, though. Let's get to what you really want to know. How was the food?
William (my husband) started with a caesar salad, and I had the crispy calamari. I tasted his salad, and he tried the calamari. Both were delicious!
Usually when I think of a caesar salad, I just think of lettuce, parmesan, croutons, and caesar dressing. So, I was pleasantly surprised to see this colorful medley. The calamari included the typical calamari rings as well as mini octopi and was served with an Italian tarter sauce.
As I said, William had the fettuccini. So, here are his thoughts.
"It was very flavorful. The basil added a pleasant zing to each forkful. There was a nice amount of pesto sauce. It wasn't too much, and it wasn't dry."
I ordered the Speck pizza, and oh my goodness! The flavor combination was almost too good to handle, from the spinach and read onions to the calabrese chili and ham, it was a true party in my mouth! I will be honest, though. The chili almost had me, but I was able to come out victoriously. All in all, though, I'd absolutely recommend it.
Finally, there was the tiramisu, which I have to order whenever it's an option, thanks to my oldest brother, Chef Tony Evans. May he rest in eternal peace.
In my opinion, tiramisu should be listed as one of the wonders of the world, and the one served at The Backspace Anderson Lane is top tier! The bottom wasn't soggy, which I have unfortunately experienced elsewhere several times. The coffee flavor wasn't overpowering, and the mascarpone was perfectly light.
My final thoughts overall are that this won't be our last visit, and I look forward to trying other dishes in hopes that they're all as delicious as these. If you have or haven't been before, make this your next restaurant to visit. Dine in, and really take in the full experience and vibe.
*This was a hosted visit, but all thoughts are my honest opinions.