Things to Do in Downtown Bastrop, TX
We were recently able to visit Serana, a new 21+ glamping destination in Paige, TX (blog post coming soon), which is about 30 minutes away from Bastrop. So, we decided to take a day trip to Bastrop and see what all it had to offer. Spoiler alert, the answer is EVERYTHING!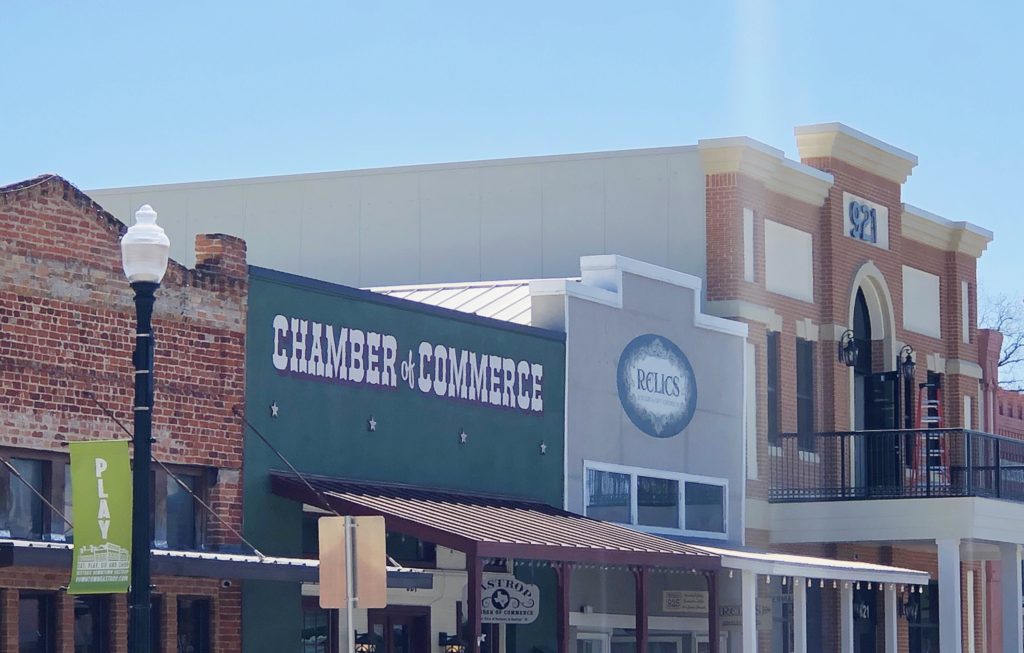 Where to Eat
My number 1 question when traveling is "Where are we eating?" So, of course, that was the first thing I checked when we decided to head to downtown Bastrop.
First, before we even get to the food, let me just say how beautiful it is downtown! We were in the historic district. So all the buildings are preserved from waaay back in the day! Then downtown sits on the banks of the Colorado River. So, you can take a nice stroll along the riverbanks on the way to your next destination. ( I love these kinds of things.)
Neighbor's Kitchen & Yard
Now, back to the food! We were glamping Saturday night, then spent all day Sunday in Bastrop. Saturday evening, however, we also went into town for dinner at Neighbor's Kitchen & Yard. This restaurant sits right on the Colorado River bank with a huge multi-level patio overlooking the river and a stage downstairs in "The Yard" for live performances (which, by the way, just started back).
For a starter, we tried the Comeback Dip, which is rightfully named because it'll definitely have you coming back to order more! We both ordered calzones.. I had the current featured flavor, The Brooklynite. William had the Hot Li'l Honey. We traded half of our calzones with each other, and I loved them both. The Brooklynite was more traditional with red sauce, mozzarella, pepperoni, mushroom, and oregano.
The Hot Li'l Honey contains olive oil, mozzarella, tomato, salami, and cherry peppers. Then the calzone is drizzled with habanero infused hot honey. The sweet, spicy, and savory flavor combo was perfect!
Lastly, for drinks, I had the moonshine margarita, and William had the Geometric Rye-No by Iron Bridge Icehouse, which is located right next door to Neighbor's! We thoroughly enjoyed our food and time at Neighbor's and will definitely be back!
After our awesome dining experience, we headed back to our campsite to relax and rest up for the next day.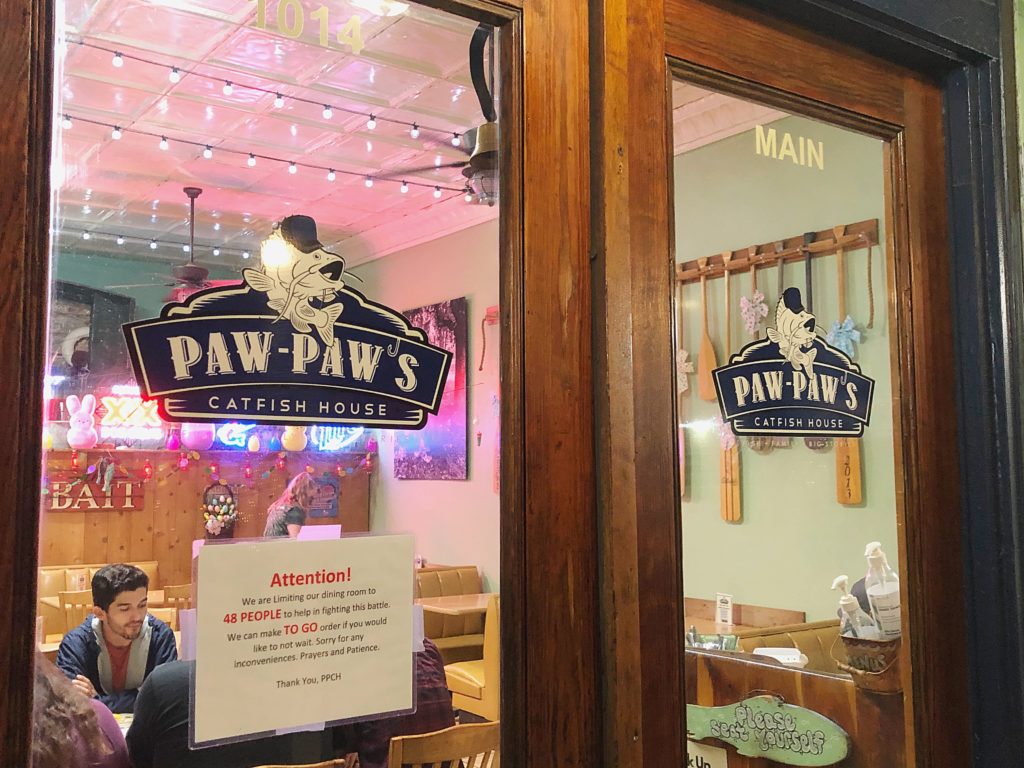 Paw-Paw's Catfish House
For dinner on Sunday, we visited Paw-Paw's Catfish House located on Main Street. This restaurant, which was started by Cheri Rice in honor of her grandparents, already pulled at our heartstrings before stepping foot inside the restaurant because it made us think of our Paw Paw (William's grandpa). Both of my grandfathers were gone before I was born. So, I never had the chance to experience a grandfather's love. Upon meeting William's grandpa, lovingly called Paw Paw, he immediately took me in as one of his own. He passed away in 2019, and we love and miss him dearly.
So with that backstory, of course when we saw a catfish house with that name, we had to go! I'm happy to say they did not disappoint. William and I agreed it's some of the best catfish we've had since moving to Texas in 2013.
At Paw-Paw's, we started with a basket of onion rings, which were THE BEST onion rings I've ever had anywhere! That says a lot, by the way, because I consider myself an onion ring connoisseur. I also had the sweet tea, which is served in a mason jar and is refilled regularly. It was perfect, with just the right amount of sugar.
For our main courses, William had the fried catfish platter, which came with 6 pieces of fish, fries, pinto beans, coleslaw, hushpuppies, and tarter sauce or cocktail sauce. Then I had Paw Paw's platter, which came 3 pieces of catfish, 3 HUGE jumbo shrimp, and all the sides from the catfish platter. I had the tarter sauce and cocktail sauce though.
We were both stuffed and had to get to-go boxes. I wanted to try the banana pudding couldn't bring myself to order it. So, that's on my list next time because believe me, there will be a next time.
Things To Do
Now, you may be thinking, "She told about dinner Saturday night then skipped to dinner Sunday. What happened in between?" Don't worry! We're getting to that right now. So, Sunday, we got up relatively early to enjoy the campsite more before leaving. Then, we headed downtown around 11am. We were supposed to get breakfast at Maxine's Café but ended up eating before leaving Serana. So we didn't have an appetite quite yet. Because of this, we started our downtown adventure a bit early.
We got there as church was letting out, but businesses weren't open just yet. So we walked around for a while taking in the views. That's when we were able to see the Colorado River in all its glory. It looks a lot different in the daytime. We walked up and down the riverbank, taking in the sights and seeing what we could see. William spotted a log with what we thought were 3 turtles, but upon further investigating, ended up being 7! They're pictured below in the slide.
So now, it was noon, and downtown was open for business. So we made our way to Astro Record Store. This store was previously a saloon and is really cool to see. They also had a really good selection of records. We left with 3 new records for our collection. After Astro, we wondered around a bit more, stopping at Colorado River Winery as well as Cripple Creek Wine & Gifts. We then headed to Copper Shot Distillery. Here, we each had a flight, trying 2 of their infused moonshines and 2 whiskeys. Let me just say, those infused moonshines are DANGEROUS! They're so good, you may forget you're drinking alcohol. The whiskeys were smooth, but they will definitely make sure you take your time drinking them. We also discovered Copper Shot has a Bloody Mary bar on Sunday's that are pretty popular.
After our flights, we decided to walk them off a bit. So we headed back to the river to walk the other direction. After some time, we realized we still had time to spare before our dinner reservation (due to our changed schedule). So, we ventured off to Walmart. On our way, though, we ran into a Goodwill. So we had to stop. There were some great furniture pieces for amazing prices. (I think our neighborhood Goodwill jacks up the prices some.) We found a classic movie that we needed in our lives, The Adventures of Babysitting. So, we got that. Then, we were again off to Walmart. Once that store trip was over, it was time for dinner. So, we headed back to Downtown Bastrop for our Paw-Paw's fix.
Everywhere we visited followed COVID protocol, requiring masks, unless you were eating or drinking, and we didn't witness anyone trying to defy the rules.
All in all, we thoroughly enjoyed ourselves in Downtown Bastrop and are already making plans to return, this time with friends. There's plenty to see and do, such as the museum and visitor's center, a movie theater (not quite downtown), plenty of restaurants and bars, and a lot of history to learn. I'd highly recommend taking a day trip to visit, and next time we'll venture out from downtown to experience even more of the city.