Lutie's Garden Restaurant
If you read my last post, you know that we stayed at the Commodore Perry Estate during the July 4th long weekend. We unfortunately didn't get to eat at Lutie's while there because they're open Wednesday through Sunday, and we were there Monday. Luckily, though, I was able to come back Wednesday to try them out. Continue reading for a look inside one of the most beautiful, sought after restaurants in Texas, Lutie's garden restaurant.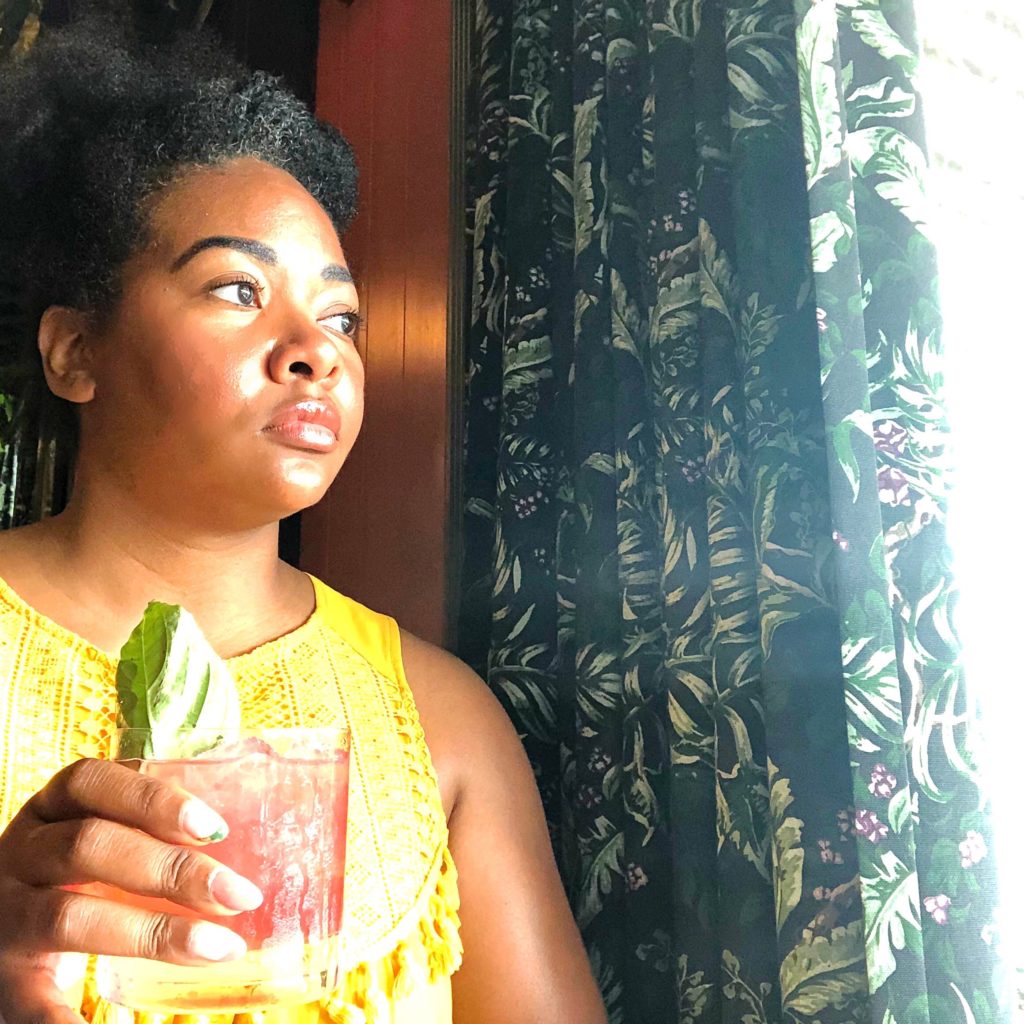 Lutie's garden restaurant is named after the lady of the original estate, Lutie Perry. She was known for her beautiful garden as well as hosting Gatsby level gatherings, from dinner parties to soirees. So this restaurant is a breathtaking homage to her.
The Interior
As soon as you open the door, you're engulfed by the lush green décor, including a mixture of live and artificial plants hanging from the latticed ceiling. While there is lighting, the restaurant is mostly lit by the sunlight entering two huge walls of windows. After sunset, the chandeliers and pendant lights take over.
Lutie's may also have the most beautiful bar I've ever seen, with its gold trim around cream and glass shelves, the green velvet rollback barstools, and chandeliers on either end that almost feel like floral arrangements.
Seating is a mixture of booths and tables, as well as outdoor seating on the patio that overlooks the sunken garden. I arrived promptly at 5pm (actually before then), at opening time. So I was the first patron seated.
I was taken to a table for two near the windows and had the perfect view to admire the entire restaurant, both indoors and outdoors. Your food is served on antique ceramic dishes with gold flatware. You're also offered your choice of still or sparkling water. Since this is still during cautionary times due to COVID, menus are still digital.
The Menu
Here's the thing. Lutie's menu is a bit different from what you may be used to. There isn't an appetizer, salad, or entrée section. Instead, the food is listed from the smallest to largest dish, ending with a 2 lb aged ribeye steak. The menu also changes regularly, depending on what fresh ingredients they have available. So there isn't really a menu available online for you to peruse beforehand.
The entire menu is explained to you upon arrival, and every dish is described. My server, Candace, said they suggest 2-3 dishes per patron, with two smaller items and one larger item. There are also dishes made to share.
My Meal
I started with a cocktail, the very flavorful Indigo Kick (all specialty cocktails are $17). It's made of vanilla infused Kettle One vodka, blackberry, basil shrub, local honey, ginger beer, and lemon. I used it as a palate cleanser between dishes. For my meal, I chose 3 dishes, the corn falafel ($9 for 3 falafels), the barbecued scallops ($30 for 2 scallops), and the green dish ($18).
The corn falafel was tasty. It was crispy on the outside and nice and soft on the inside. The tangy sauce drizzled on top was a nice touch for my taste buds.
The barbecued scallops was insanely good! It had several contrasting flavors and was cooked perfectly. The purple daikon relish also gave it a nice little crunch.
Finally, the green dish was also exceptional and nothing I would've ever thought of creating. The ingredients for this dish change, depending on what's in season, but as of July 5, it consisted of roasted summer squash topped with mixed greens and feta cheese, all covered in a green sauce with a dash of sea salt. If only I knew what the green sauce was made of, I'd definitely try making this at home.
Everything had a great combination of contrasting flavors that made them stand out and keep me excited for the next bite. The three dishes were also just enough to fill me up.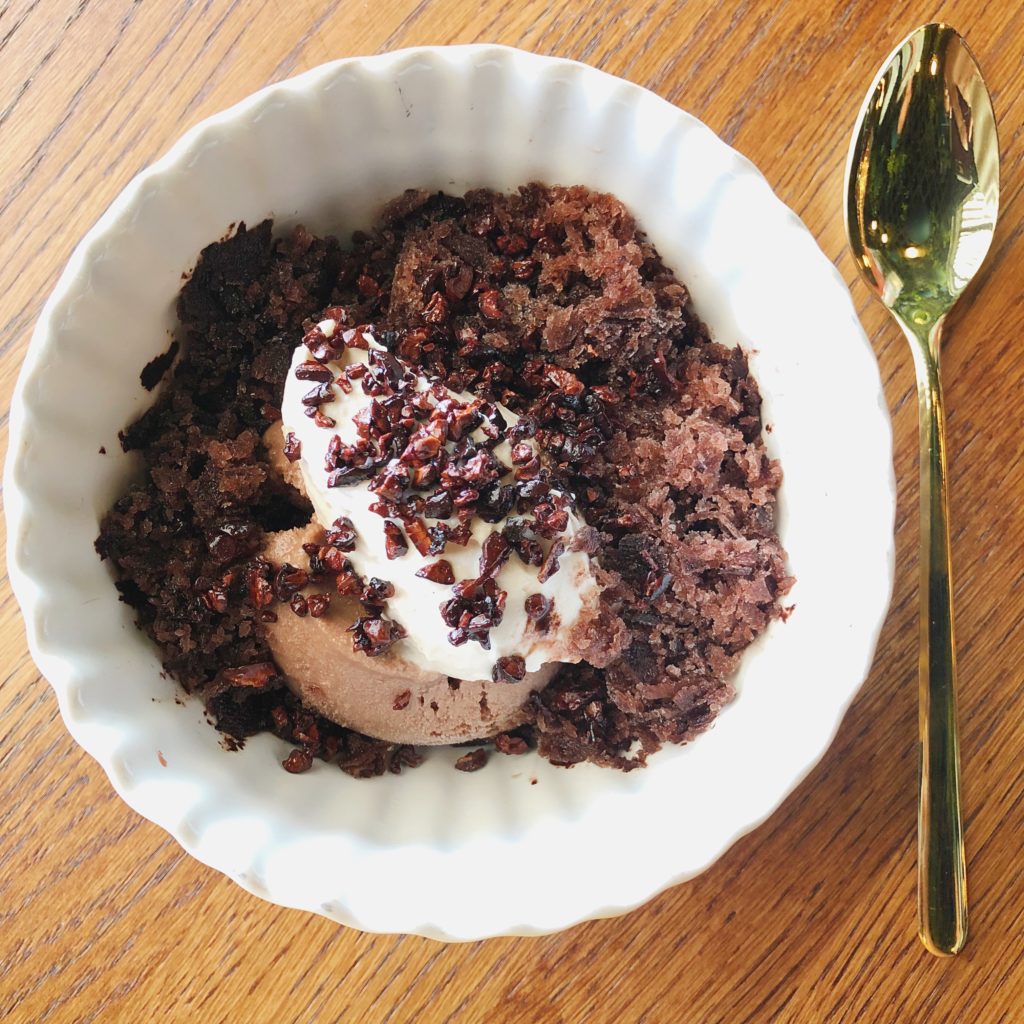 Dessert
Of course, I saved room for dessert! I ordered the chocolate shaved ice ($12), which is layered from bottom to top with dark chocolate ice cream, chocolate shaved ice, vanilla Chantilly, and cocoa nibs.
Now I'm not a chocolate ice cream fan, but something said try it, and I'm glad I did. The different textures are a lot of fun in your mouth. The chocolate did start to take me over close to the end, but the vanilla Chantilly calmed it back down. It almost reminded me of tiramisu with a crunch. Then Candace, my server, said someone described it as a fancy fudgesicle, and they were absolutely right!
Final Thoughts
Lutie's garden restaurant is hands down the most beautiful restaurant I've ever visited, but it's also very down to Earth. The servers are very attentive and go out of their way to make sure you fully enjoy your visit. The presentation of each dish was top tier, with nothing out of place. You definitely receive the full 5 star experience from arrival to your last bite (or sip).
I recommend everyone dine here at least once. You're unlikely to experience anything like this anywhere else.