6 Unique Glamping Experiences to Book this Fall
Though COVID travel precautions and requirements are slowly leaving, several people are still leery of traveling. So, I compiled a list of 6 beautiful, unique glamping ideas to allow you to travel while still keeping your distance from the masses.
The below properties are located across basically every region in the contiguous US. So, it's likely you'll find one within a decent driving distance from your home. Without further ado, here's my suggestions of 6 unique glamping experiences to book this Fall.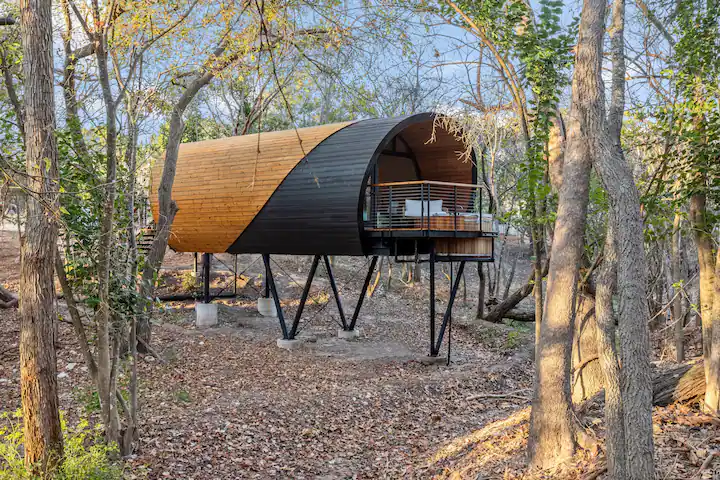 This unique structure is part of multiple dwellings on a property near downtown Fredericksburg. Visitors say it's close enough to enjoy downtown while still feeling like you're in the middle of nowhere.
The Spyglass's cylindrical build is very astonishing, and the interior design is no different. Starting with the built in hot tub, to the kitchenette and the bathroom, it's like a luxury suite in the woods.
Be sure to check out the other properties on the grounds with the Spyglass as well. They were all constructed to amaze!

One of Getaway House's newest outposts, Getaway Homochitto, opened to guests in January 2022. Actually located 2 hours outside of New Orleans in Meadville, MS, this destination is perfect for those needing to disconnect for a while.
There's no wi-fi, and cell service isn't guaranteed. A lockbox is even available for you to place your phone during your stay to ensure you have no distractions and can fully enjoy this experience.


You can knock off 2 glamping bucket list items by staying at the Cloud Dome Treehouse, which is a geodesic dome as well as a treehouse nestled high in the canopy of trees at the Red River Gorge in Campton, KY.
This dwelling is actually part of a treehouse village called Dome Town, which consists of 3 domes connected by rope bridges. Cloud Dome is the highest, hence the name. However, each dome has a unique view of the stunning gorge.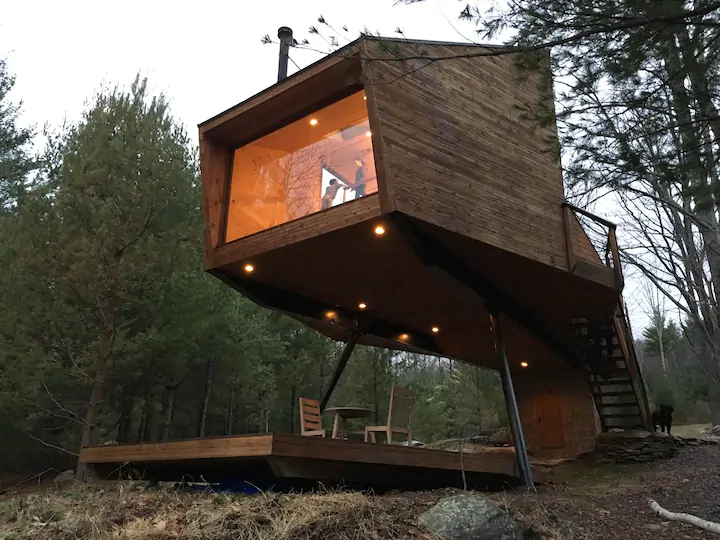 A one of a kind, geometric, custom built guest house imagined by Antony Gibbon Designs, the Willow Treehouse is a highly sought after getaway destination. It's a lofted property just 15 minutes away from Woodstock, NY, and overlooks a pond.
The sleeping loft has windows on 3 sides as well as a nearby skylight, supplying you with a nearly 360 degree view of the land. It's advised to pack lightly since you'll be walking into the property as well as climbing up to the sleeping loft.
Also, this place sells out fast. So unfortunately, it may already be booked for the year by the time this post goes live.

The "Missing Peace" is an A-frame chalet located near 2 lakes (Aspen and St Gallen). Enjoy the Innsbrook leaves in the Fall, ice skating in the winter, and festivals in the summer.
The chalet holds up to 5 guests, with 3 beds (one being a sofa bed). So, it would be great for families.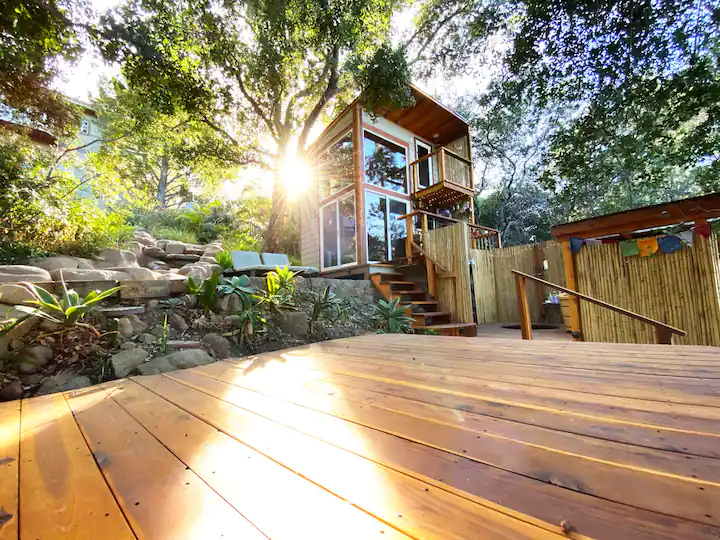 Nestled in a sanctuary garden, the ShangriLaLa provides the perfect balance of indoor/outdoor living. The floor to ceiling windows make the home feel much more open, and the outdoor bathroom gives you the feeling of a tropical escape.
Due to the long, unrailed pathway leading to the house, guests are encouraged to pack light to ease their walk. This location is also not accessible to wheelchairs.
I hope you enjoyed my list of 6 unique glamping experiences to book in 2022. If so, stay tuned for my list of breathtaking rental houses across the US coming soon.
Have you visits any unique glamping or camping sights? Let me know in the comments.
Photos courtesy of Airbnb.