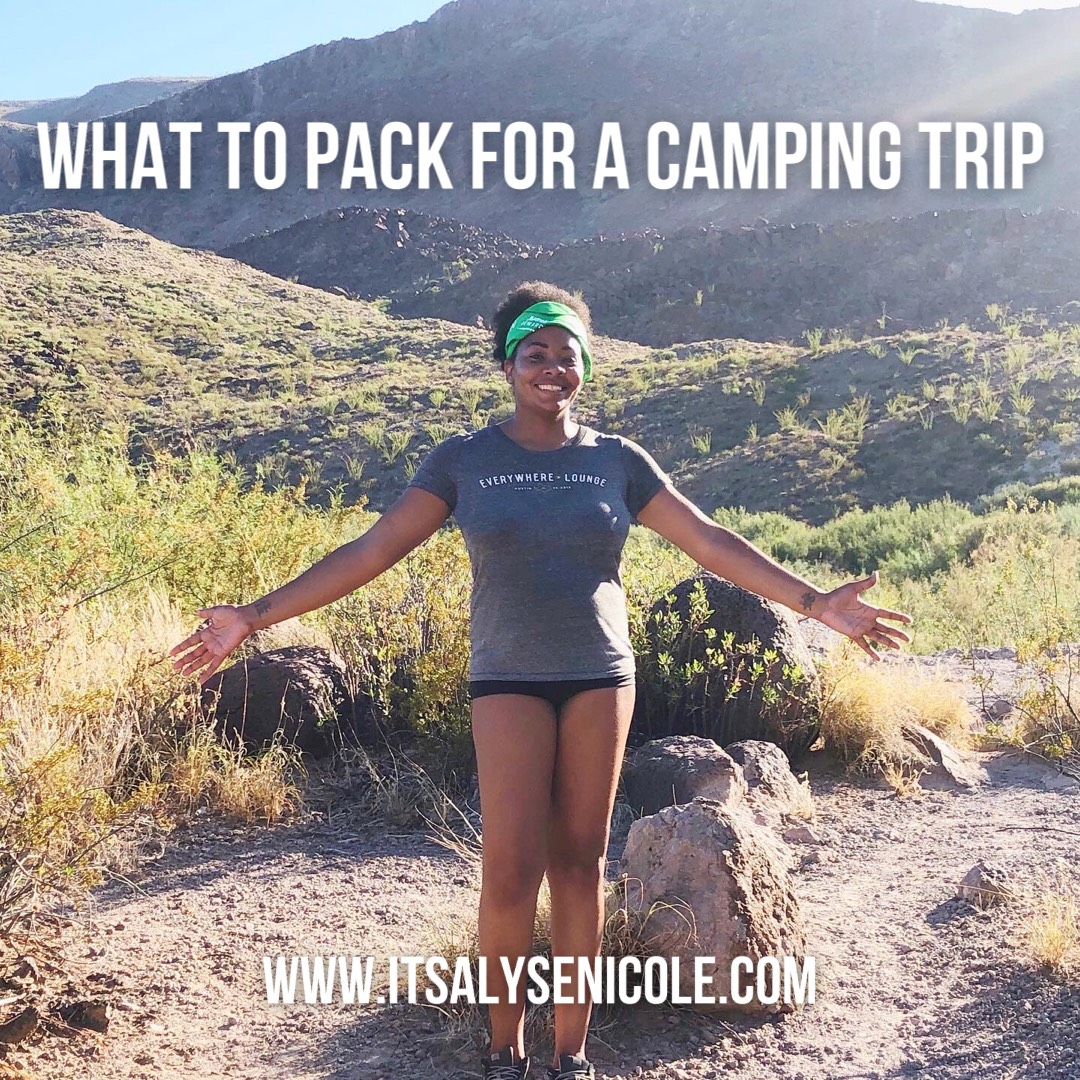 WHAT TO PACK FOR A CAMPING TRIP
Last October, William and I went camping together for the first time at Big Bend Ranch State Park. We each had different camping experiences when we were younger, but this was our first time doing primitive camping. So we wanted to make sure we had everything we needed since we'd be basically in the middle of nowhere with zero cell service.
We're super excited to be going back to Big Bend Ranch very soon. So, I thought I'd bring you all along as we prep for the trip in case you decide to visit the great outdoors this spring or summer.

This site contains affiliate links. I may receive a commission for purchases made through these links at no additional cost to you.
The Necessities
I'll start with what you'll definitely need for your trip. Then, we can talk about things that are nice to bring along, just in case. So, the necessities are:
sleeping bag or several blankets
batteries
deep woods insect repellent
1 gallon of water per person per day
a separate gallon or more of water for cleaning and misc.
knife
firewood and kindling
matches or other fire starter
cooler
pots, skillet, cooking utensils, and eating utensils
plates, bowls, cups, or mugs (depending on what you plan to eat or drink)
towels
hand sanitizer
toilet paper
a spade or small shovel (if there's no bathroom nearby)
washcloths
toothbrush, toothpaste
unscented biodegradable soap
canned goods and easy to cook foods
can opener
tape
trash bags
Nice to Have Items
These next items aren't necessary for your trip, but they may make it more enjoyable.
lawn chairs
plastic tablecloth (if a picnic table is available at the campsite. Trust me!)
a small grill
sleeping pad
headlamp
small folding table (if a picnic table isn't nearby)
hammock
cord or rope
grill rack
cards and board games
binoculars
reading material
action camera (like a GoPro)
baby wipes

Clothing
Something to remember when camping is that the weather can change at any time, especially when camping somewhere like Big Bend Ranch. The nights are waaay colder than the day. So try bringing multiple options such as:
short sleeve and long sleeve shirts
a sweatshirt
a jacket
socks
thick socks
pants
shorts
underwear (of course)
bandana or sweat band
sneakers
maybe hiking boots
flip flops
stretchy pants, like leggings or yoga pants
swimsuit
warm pajamas (a MUST)
rain gear
maybe long johns
These are all great items to have, some less necessary than others, but it's a nice list to help you realize what you may want or need to pack for your camping trip. Did I forget anything? Let me know in the comments if you have any additional suggestions.